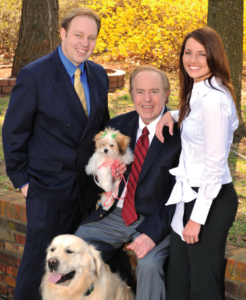 Dr. David Lashley, D.V.M., Dr. Casey Davis, D.V.M., Chris Lashley, CEO

"When we had issues with our server overnight, the Computerease team was there first thing the next morning. If we have any problems, they are there right away."
- Chris Lashley, CEO
Comprehensive IT Services for Technologically Advanced Veterinary Care
We trust Ryan Haislar and Computerease with all of our IT needs, allowing us to focus on providing comprehensive and compassionate care for important members of your family: your pets!  Our practice uses advanced technology reliant on our computer systems to integrate our patient records, X-rays, lab services and financial transactions.
Lashley Animal Hospital is a multi-generational family business that has been providing comprehensive veterinary care for the Metro East area for over 45 years. Located in Swansea, IL, they care for pets in a friendly family atmosphere.

Personalized and Prompt Service
When we had issues with our server overnight, the Computerease team was there first thing the next morning to make sure we were up and running for the day.  If we have any problems, whether it is morning, overnight or in the middle of a busy workday, Computerease is there right away.  Most importantly, they are respectful and accommodating for the needs of our sometimes-chaotic veterinary practice, minimizing interruptions to the care of our furry clients and their humans.
Trust Over 22 Years of Personal Experience in the Field
As a busy CEO that has many things to worry about, I trust Ryan's 22 years of experience in the field and I rely on his depth of knowledge that he conveys to me in a straightforward and relatable manner.  I save time and money because with every decision about the IT needs of my business, I am provided with multiple options that are all reasonably priced.
Takes Time To Explain Everything
All of the Computerease staff explain the benefits and drawbacks of each of the options and makes a recommendation for what will work best, but I never feel pressured me to make a certain decision.  I can easily make a well-informed and educated decision that best fits the needs of my business and my budget without having to spend hours of my valuable time researching on my own.
Quality and Service are of the Highest Quality
The high-quality service and personal attention that we receive from Computerease is essential to providing high quality veterinary care to our clients.  Their service is a great asset to our business!