St. Louis IT Support & Managed Services
The Trusted Full-Service IT Support Team for Your St. Louis Business
Managed IT Services for St. Louis Businesses
It's possible to run your business without constantly being interrupted by IT headaches! When you work with a trusted St. Louis IT support company like Computerease, your team is highly effective, your clients are happy, your meetings run smoothly in a remote or hybrid environment, and your day-to-day operations are running smoothly. Your entire organization is productive and secure. You're focused on running your business and not worried about your technology.
Are you experiencing downtime? Is your network running slowly? Is your hardware driving your team nuts with constant errors? Are you questioning your cyber security strategy? If so, it's time to bring in the IT support experts at Computerease.
When you partner with Computerease for your business IT support needs, you get an entire team of technology experts dedicated to keeping your business running efficiently and securely. Your technology is the backbone of your business. If it's not running at top performance, your business will suffer. Our managed IT services plans minimize downtime with proactive service so you can focus on running your organization.
IT Support & Services for St. Louis Area Businesses
Co-Managed IT Services
Virtualization Services
Proactive IT Services for Saint Louis Businesses
Whether your business is in downtown St. Louis within view of the Gateway Arch or in the booming Cortex section of midtown, Computerease provides highly responsive IT support for your business. We partner with you to give your St. Louis business a competitive edge in today's technology-reliant world.
Our locally based IT support team jumps into action at the first sign of a technical problem, both remotely and onsite. We know exactly what it takes to operate and grow a business in Saint Louis, MO because we've grown and operated our own business here since 1984. Our clients rely on our expert business IT support to keep them up and running.
Transforming business through technology
Your business runs on technology so any delays with IT support means that you are losing time and money. Our proactive IT solutions are customized to your business needs. You can focus on running your business, not focused on recurring IT support problems.
Protecting business investments with next-generation cyber security
Every computer, employee, hour, and client are investments you've made into your organization. Cyber criminals target every single part of your business because they know that it's ALL valuable. At Computerease, we focus on a multi-layered, next-generation cybersecurity strategy to keep our clients and their business investments protected.
Longevity in tech industry and business
Things rapidly change in the tech industry. There's updates and new technology solutions released constantly. IT companies come and go just as quickly. Computerease has a 38-year track record of providing reliable and responsive IT support for businesses throughout the Greater St. Louis area.
Client relationships built on loyalty
We don't just keep our clients' technology up and running. The entire Computerease team is dedicated to supporting your business through your next stages in growth. Many of our long-term clients have trusted us as their go-to technology resource for 15+ years. That's longer than most IT companies have been in business!
Business IT Support for Saint Louis | Local IT Support for St. Louis Businesses
St. Louis Work from Home
Keep your entire team productive and secure working from any location.
St. Louis Cyber Security
Protect your business from cyber criminals.
St. Louis VoIP Phone Systems
Reliable phone systems with scalable and mobile-friendly functionality.
St. Louis IT Support
Proactive remote and onsite support for your business.
St. Louis IT Consulting
Our IT business experts guide you in every step of your IT project.
St. Louis Backup & Disaster Recovery Planning
Keep your business files protected and backed up with automated and secure backups.
St. Louis Managed IT Services
Proactive managed services reduce downtime.
St. Louis Cloud Solutions
Access your data from any location with flexible cloud solutions.
St. Louis Virtualization
Add efficiency for your business with virtualization.
St. Louis vCIO
Guidance for all things tech for your business.
St. Louis IT Helpdesk
Tech experts available 24/7/365 to help address any problems.
St. Louis Microsoft 365

Utilize the power and functionality of Microsoft 365 for your business.
100% Money Back Guarantee
100% Money Back  – Your "Thrilled Today Or You Don't Pay" Guarantee
We don't hide behind small print, legal-eeze, or other weasel clauses in our guarantee. That's because we are completely confident in our ability to fix whatever problems you have and make you thrilled you called us.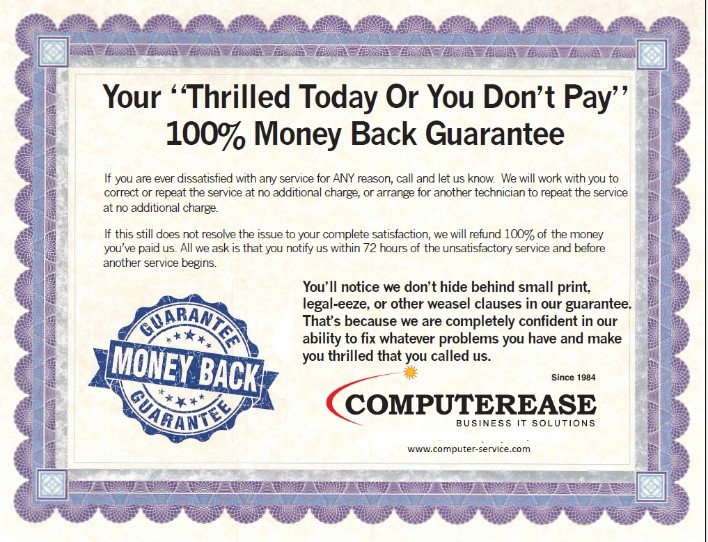 Managed IT Services for Your Industry
Computerease Is a St. Louis Technology Partner For Your Industry
Every aspect of a healthcare organization is focused on patients. That's why you need to work with an IT support provider that takes care of technology issues quickly, while keeping security and HIPAA precautions in mind. Exceptional healthcare IT support from Computerease allows you to focus on your patients!
Technology runs your production line. If you have recurring IT support problems and downtime, you're losing money by the minute. Computerease supports manufacturing businesses with proactive IT support to keep your business, and your production line, running smoothly. Our 24/7/265 IT Helpdesk is there for your St. Louis manufacturing business, whenever you need help.
Accounting and financial firms are central in helping people and businesses manage their finances. Your clients trust you with expert money advice, so you need an IT support company that you can trust to give you expert technology advice. Can you imagine experiencing recurring IT problems in the middle of tax season? That's a situation that is best prevented with proactive IT support. It's also critical to keep your client's data and personal information secure from greedy cyber criminals who are looking for any vulnerabilities in your systems.
Every minute that your St. Louis legal firm is waiting for an IT problem to be solved is a wasted billable hour. You rely on your technology to keep your attorney and support staff connected with the data they need, when they need it, from wherever they might be. Our St. Louis legal IT helpdesk is available 24/7/365 to resolve IT issues whenever and wherever they occur.
As a trusted IT support company for St. Louis engineering and construction companies, Computerease understands the unique technology needs of your team in the field and in the office. It's simple to make an ordinary computer work, but it's far more complex to be able to recommend and advise on the best technology for your Auto-CAD drawings versus your field laptops. As an IT support company with an almost 40-year track record of proven IT support for engineering and construction companies, Computerease brings valuable expertise to your business.
Working with a trustworthy, highly responsive, and reliable IT support company can transform your St. Louis business. Computerease will put an end to recurring IT problems and get you the help you need quickly. Your team can work productively and securely, backed by our 100% money back guarantee.
Not quite ready to give us a call?
If you're not ready to call just yet, check out our free IT Buyer's Guide. This FREE report is your comprehensive guide to avoid hidden fees and bloated contracts that other IT support companies in St. Louis claim that you "absolutely need."
This report is for any St. Louis business owner or administrator looking for the best IT company. It will save your time and money during your search for a new business IT support company. Fill out the form and you'll get your FREE copy instantly.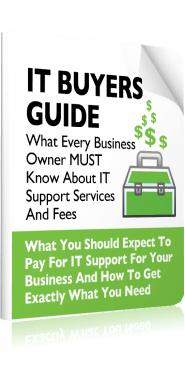 Testimonials from St. Louis Businesses Like Yours
Serving Businesses Near You
Fast response times are critical when your business is dealing with a technical issue. Our St. Louis based office is perfectly situated to provide rapid onsite response times in case of an emergency. Our helpdesk is also available quickly for remote IT support problems. If you're located in downtown St. Louis or in one of the surrounding communities, the Computerease team is ready to spring into action to solve your IT issues quickly.
As St. Louis's IT experts, business owners have trusted us with all their IT support needs. We work alongside business owners to design and implement a comprehensive IT strategy, keeping cyber security protections at the forefront.
Contact us today to start your journey towards headache free IT support.
Directions to Computerease's St. Louis Downtown Office
St. Louis IT Support
401 Pine St, St. Louis, MO 63102
(314) 788-4500