Strengthen Your Current IT Staff with Co-Managed IT Services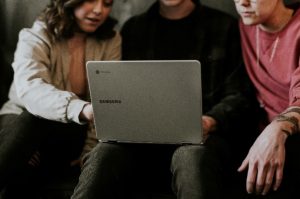 Many small businesses employ at least one IT professional on their staff. They can be responsible for the day-to-day upkeep of a company's infrastructure, often managing dozens of devices on their own. Or they can be a member of the leadership team that directs the overall IT strategy for the business.
If you have in-house IT staff, you already have a solid understanding of how important technology is to your business. The role they play allows your employees to communicate and manage operations efficiently. Technology should always achieve the goal of improving operations rather than hinder them.
However, as your business grows and changes, it's important to scale your IT infrastructure to meet the company's needs. For companies wanting to keep some of their IT in-house, Co-Managed Services are a valuable resource to provide existing staff with the support they need to protect your business.
With Computerease's Co-Managed IT Services, your team has the support of our trained IT professionals and enterprise level IT solutions to strengthen your technology infrastructure.
Improving Efficiency in Your Business
Customized Co-Managed IT Support to Fit Your Needs
The demands of your business are always evolving. Keeping up with the various aspects of the company's infrastructure can be impossible for a small IT staff. While they are busy handling the daily problems like lost passwords and downed networks, vital projects and updates are often left on the backburner. For many internal IT support teams, there simply aren't enough hands for all the work.
The security notifications that we often find annoying, and delayed endlessly, are incredibly important. When these are left unattended, your security infrastructure is made vulnerable to many threats. Hackers are quick to exploit specific vulnerabilities fixed in patches because users don't update them immediately, despite knowing the dangers.
There are many moving parts within your IT infrastructure. With our Co-Managed Services, we share the job with your internal team, working to find a balance of responsibilities that allows your business to have expert support 24/7/365.
For security updates, we can automate the process, so your systems always remain up-to-date and secure while actively looking for threats with our 24x7x265 Security Operations Center (SOC). Our Co-Managed Services are designed to suit the needs of your business as they come.
Local IT Support Company Is Ready to Help
Providing Your Team with the Tools They Need to Succeed
Doesn't it always seem like the worst IT disasters happen when the IT guy is on vacation? When the efficiency of the office is tied to one person, their absence for even a day can spell disaster for any business. Our Co-Managed Services offers those staff members the chance to take Paid Time Off and vacations.
Our trained and dedicated IT professionals are available to provide the support your staff needs to achieve a secure and productive environment. Downtime can be expensive, especially when the cause is technical. Co-Managed IT Services are a reliable resource to maintain maximum efficiency for your infrastructure. Local and remote technicians can handle a multitude of issues that your business might have, quickly and efficiently.
Predictable and Efficient Costs
Stop Wasting Money on Technology That Doesn't Fully Meet Your Needs
For any business owner, the primary consideration when looking for IT Support is always going to be the cost. If you hire someone onto your staff, there are the operational expenses associated with that. When you partner with a Managed Services Provider to implement Co-Managed Services, you don't have to worry about any of that. Our services are scaled based on your company's needs and come at an affordable flat rate.
Typical break-fix IT companies can be expensive and don't offer the same level of dedication that Co-Managed Services provides for your business. We integrate our IT team and enterprise level solutions with your business, working with your organization for the exact right combination to supplement your internal team. With our services, we implement policies and systems that are preventative, rather than reacting to issues that may arise. For complex problems, we take the time to investigate and resolve the underlying issues instead of simply putting a band aid on the problem.
Get the Support Your Team Needs with Co-Managed IT Services
Connect with our team to find out what we can do for your company
Computerease's Co-Managed IT Services are customized to meet the demands of your business without the extra hassle of hiring another staff member. Our skilled IT professionals are trained to provide your in-house IT Staff with the resources necessary to do their jobs optimally. For more information about Co-Managed IT Services, fill out the form on the right or give us a call today!