Cybersecurity Services for Small Businesses
IT Support you can trust to be there 24/7
In today's digital age, cybersecurity is a critical concern for businesses of all sizes. While some small businesses have the mindset of, "this won't ever happen to me," the reality of that has changed. A study by IBM reported that human error is the main cause of 95% of data breaches. The consequences of such an event can be devastating, resulting in financial losses, reputational damage, and legal liabilities.
That's where we come in. As a local, family-owned, and operated Chicago IT support company specializing in cybersecurity, Computerease offers services designed to protect your business from the expanding cyber threat landscape. Our comprehensive approach to cybersecurity includes Proactive Monitoring, Threat Detection, and Incident Response, so you can rest assured that your business is protected around the clock.
Protect Your Small Business with Our Comprehensive Cyber Security Services
Our team of experts has years of experience in the cybersecurity industry and are equipped with the latest tools and technologies to safeguard your business against threats, inside and out. We understand that every business is unique, and that's why we take a customized approach to cybersecurity. We'll work closely with you to understand your business and tailor our services to meet your specific needs.
At Computerease, we understand the importance of cybersecurity for small businesses. Let us help you protect your business from cyber threats so you can focus on growing your business.f
Key Benefits & Features of Cybersecurity
Enterprise Security Awareness
Your employees are vital to the overall defense of your business against cyber threats. Trained and aware employees are less likely to prove a danger to your infrastructure.

Risk Assessments
Stay informed about the health of your security network. Industries with compliance requirements must perform assessments every 12-18 months.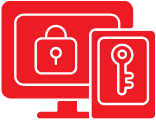 Endpoint Protection
The health of each device in your network matters. With WFH models, our 24/7 threats protection ensures that there is security for each endpoint, server, and resource in your network.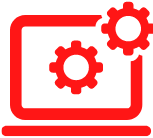 Incident Response
When a data breach occurs, the most important thing is to have an action plan in place. Being able to take a measured and prepared response saves your business time and money as operations return to normal.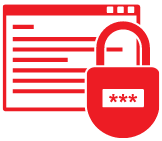 Email Protection
Encrypted email settings help filter through pesky phishing attacks, spam, and other methods used by cybercriminals.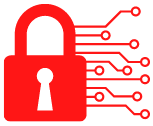 Comprehensive Vulnerability Scanning
The cybersecurity landscape is ever evolving. Staying up to date with the latest threats allows your business to plan ahead and better understand the demands of preventing a breach.

Compliance
Privacy requirements vary across industries, with developments and changes coming every day. Staying ahead and aware of these changes protects businesses from complex compliance requirements.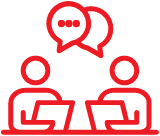 vCSO Consulting
Virtual Cybersecurity consulting gives businesses of varying sizes access to executive-level strategic planning for their security infrastructures.
Cybersecurity Services for Your Industry
See What Other Businesses Are Saying About Our Business IT Services And IT Support
Frequently Asked Questions (FAQ)
What is cyber security?
Cybersecurity is the method by which technology professionals protect individual data and property from digital attacks.
What skills are needed for a cyber security professional?
A good cyber security professional can respond to the needs of their clients in a timely manner while remaining proactive against threats and knowledgeable about the latest security concerns in the industry.
What types of cyber security are important?
Cloud Security, Internet of Things, Critical Infrastructure Cybersecurity, Network Security, and Security Application.
What are the most alarming security issues on the internet nowadays?
The most dangerous type of security attacks targets end-users, exposing
What are the four types of cyber-attacks?
The four most common types of cyber-attacks are Distributed Denial of Service (DDoS), Malware, Phishing, and Man in the Middle attacks.
What are the advantages of cyber security?
When you work with cyber security professionals, you get peace of mind. Your network is monitored 24/7/365 and there is a plan in place for different types of potential security threats.
What is the greatest security threat to your business?
According to IBM, 95% of cybersecurity breaches can be traced back to human error. Hackers often utilize methods that directly target vulnerabilities in end-users. Phishing attacks are one common method they use.
What are the major cyber security protections I need?
Security Assessments, Spam Email, Password Manager, Security Awareness, Multi-Factor Authentication, Computer Updates, Dark Web Research, Firewall, Encryption, Backup, and Advanced Endpoint Security.
How do passwords influence cyber security?
Weak or overused passwords create a massive security risk for organizations by opening doors for hackers. A single compromised device can expose your business to cyber threats, costing time and money to resolve.
What safeguards for my data?
A firewall acts as the frontline defense against hackers, blocking everything you haven't specifically allowed to enter your computer network.
Do I need to keep my devices and network updated?
With a Managed Services Provider, these processes can be automated so you don't have to worry about them.
Can I let my employees use their own devices?
When an employee accesses company data with a personal device, your business is put at risk. Devices that aren't monitored and secured by a security professional can infect your otherwise protected network.
How can I keep my bank account safe from hackers?
Protect your bank account from hackers by setting up email alerts so you are notified when money is withdrawn and dedicate your online banking to ONE highly secured computer.