Computerease Named To CRN's 2021 MSP 500 List
St. Louis, MO – March 17, 2021
Computerease, a 37-year-old family owned and operated IT company serving small and medium businesses in St. Louis, Chicago, and Central Illinois, was named to the 2021 Managed Service Provider (MSP) 500 list by CRN, a brand of the Channel Company, in the Pioneer 250 category. This prestigious list is announced annually of the North American IT solution providers that demonstrate innovative and client-centric IT managed services offerings.
There are three divisions of the MSP 500 list including the MSP Pioneer 250 division. This category recognizes outstanding companies who are managed service providers, primarily focused on the SMB (small and medium business) markets. CRN recognized Computerease for the 2021 MSP 500 list due to their security focused dedication to their client's success. Using cutting-edge security solutions combined with tried and true efficient IT systems, Computerease is able to offer small businesses all of the advantages of an in-house enterprise quality IT department on a small business budget.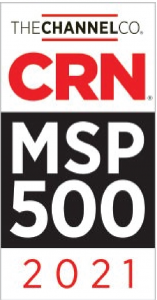 "Effective MSPs enable companies to focus on their core objectives while improving the quality and reliability of their cloud computing capabilities," said Blaine Raddon, CEO of The Channel Company. "The solution providers on CRN's 2021 MSP 500 list deserve recognition for their innovative and forward-thinking approaches to managed services, and the ability to optimize operational efficiencies and systems to maximize return on investments."
Computerease CEO Ryan Haislar said, "Being a small business ourselves, we have faced the same challenges that our clients face every day. Because of our dedication to IT security, we also understand the enormous volume of threats facing our clients daily.  Our challenge is to bring our clients the security they need combined with the correct technology to drive efficiency and profitability for them. And, of course we want to bring all of those solutions to them along with responsive support when they need day to day technical help. Being named to the MSP 500 list validates all the hard work that our team puts in for our clients on a daily basis."
The MSP 500 list will be featured in the February 2021 issue of CRN and online at www.CRN.com/msp500