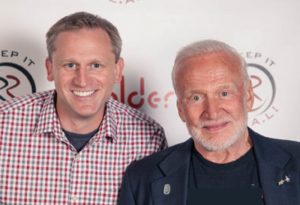 I've been fascinated with space since I was a small boy, so I loved meeting astronaut Buzz Aldrin at an industry event a few years ago. He gave an inspirational speech about his experience of walking on the moon and being involved in the space program. He also shared his efforts to get people to Mars, shown with his t-shirt that says, "Get Your Ass To Mars."
There is so much upheaval in the world right now with the pandemic and other events causing tension throughout society. Everything we once took for granted changed overnight. We're focusing on surviving through these trying times and it's easy for a person to get overwhelmed and fall into despair. However, it's always important to keep goals and visions of the future in mind, no matter what the present circumstances may be.
Buzz Aldrin's life is an example of visionary determination because after his high point of walking on the moon, he fell on some hard times. In his 1973 autobiography, Return To Earth, Aldrin shared how he fell into depression after leaving NASA and the space program.
Over the following decade Aldrin struggled through multiple divorces, mental health challenges, and alcohol abuse. At one point his therapist suggested getting a "regular job" that would provide a consistent daily work schedule, a key point to help manage his depression and alcohol problems. Aldrin got a job as a car salesman selling Cadillacs in Beverly Hills. He was a horrible salesperson and didn't last long at the job.
This was a low point for Aldrin. You can only imagine the shame of not being able to hold down a job after an amazing achievement like walking on the moon. He was devastated and his entire world had fallen apart. Many people in a similar situation would simply give up with so many odds against them.
But, Aldrin kept fighting. He got the help and support he needed, then dedicated himself to reinvigorating efforts for human space exploration. With a renewed spirit and determination, Aldrin began his campaign to get people onto the surface of Mars.
Buzz Aldrin knows that he isn't going to have a chance to walk on Mars, so he focuses his efforts on educating and encouraging younger people about space. His non-profit, the Aldrin Family Foundation, educates younger generations how to step beyond existing boundaries in space exploration for entrepreneurs, scientists, explorers, and enthusiasts.
With a renewed zest for life, Aldrin has achieved celebrity status for his work. He has an active Twitter profile @theRealBuzz with over 1.5 million followers. He starred in a rap music video with Snoop Dog titled "Rocket Space." He's written many books about his life, including educational children's book. All of these efforts support his dream of furthering the mission of continued space exploration.
In an opinion piece written for Florida Today on June 3, 2020 after the SpaceX rocket was launched, Buzz Aldrin celebrated the achievement and again called for sending people into space. Aldrin wrote, "These goals stand before us as inviting, thought prompting, wonder-filled, and compelling of this generation as a full moon on the horizon. We know that we are explorers at heart, and that means taking action to get there." He celebrated the achievement and also called for action saying, "We explore, or we expire."
These inspirational words were written in the middle of the pandemic, a time that's challenged individuals, businesses, and all of society. Everyone is working tirelessly to survive these trying times. While learning more about Buzz Aldrin's life for this article, I'm encouraged and reminded to continue to make plans for the future. There's highs and lows in life, but we never have to lose hope for dreaming about the future. So, let's take a lesson from the man who walked on the moon and reinvented himself after a period of extreme difficulty. Always dream for the future and take action to work towards an amazing future.