Experience 100% Call Reliability, Cut Communication Costs and Boost Productivity With a New Springfield
VoIP Phone System
You're here because you're looking for one of the best Springfield, IL VoIP phone providers.
Are you on the fence about upgrading your existing phone system? It may get the job done, but you've been experiencing issues with dropped calls, poor audio quality, and rising maintenance costs.
Or, maybe you need a work from home phone system which will let your team seamlessly work from multiple locations.
In the past, your phone system used to support your business. But, now it's become nothing more than a source of stress,
An upgraded business VoIP system can transform your business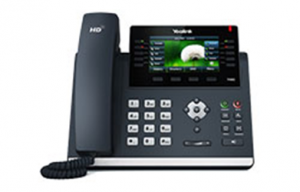 Depending on the type of business you run, your phone system is a crucial aspect of how you do business. It's either supporting you or hurting you.
Sadly, a lot of Springfield, IL businesses haven't made the jump to a reliable business VoIP phone system.
Our goal is to change this trend and make it SIMPLE for your business to get the phone system features you need to operate efficiently.  Don't worry, we'll handle everything for you.
Does Your Springfield Business Need a New VoIP System?
Investing in a new business VoIP system is an important decision for your business. By choosing the wrong VoIP phone system, you're going to invest cash into a system that might not work, make your communication processes more difficult, and even damage your existing customer and client relationships.
The success of your business hinges on your ability to communicate.
The longer you stick with your aging phone system the more potential damage you'll end up doing.
But, how do you find a business VoIP system that's a good fit for your business?
Researching online, reading tech-heavy brochures, and phoning up local Springfield suppliers will only get you so far.
No matter how much "reading" you've done, your core questions are still unanswered:
How can our team work from home as if they were in the office?
Do I still need "phone lines"
Can I keep my old phone numbers?
Will a new VoIP system save my business money?
How soon will this investment pay itself off?
Will the sound and call quality improve?
Are there any hidden fees I need to be aware of?
How will this make my employees more productive?
Fill out the form on the right or give us a call at (217) 521-0500 for more information!
Why Traditional Business Phone Systems Aren't Enough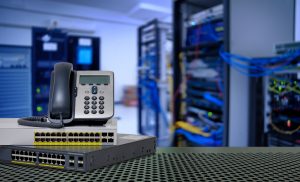 Traditional business phone systems are on the way out. Sure, a traditional phone system can be reliable, due to the wired connection. But, businesses all over Springfield are realizing the unique advantages a VoIP phone system can provide.
With a traditional phone system, you're keeping your business trapped in the stone age and imposing all kinds of limits on your business, like:
Paying for expensive add-ons (that should be standard features)
Inaccurate caller ID
No support for out-of-office call forwarding
Spam calls that tie up your support staff and phone lines
Not only that, but maintaining your traditional phone system can be much more expensive than a brand new business VoIP system.
But, you'll also need to be careful when choosing a VoIP phone system Springfield.
Choosing a VoIP solution based on cost alone, without comparing your options, can end up negatively impacting your business:
Calls with scrambled and low-quality audio
Dropped calls and lost voicemails
Call echoes due to latency and improper setup
Network overload due to improper configuration
Phone outages due to substandard data center configurations
Unhelpful support
How a Hybrid VoIP Phone System Can Benefit Your Business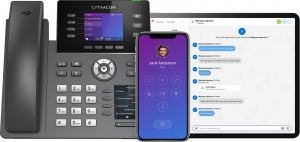 Luckily, by choosing a high-quality hybrid VoIP phone system for your Springfield business you can avoid all the issues above, plus realize some great benefits.
We've partnered with Star2Star to offer a hybrid VoIP business phone system that offers high-def sound quality, 100% reliability, along with other advanced calling features.
This provides your Springfield business with a ton of benefits like:
Crystal clear call quality. Your customers and clients will feel as if they're in the same room, talking to you directly. Our VOIP phone systems utilize the latest in crystal clear voice technology and HD phones.
Cheaper installation and setup. Our Star2Star VoIP system costs significantly less than traditional VoIP systems. Plus, it integrates with your existing router and firewall, to bring your investment down even further.
Ongoing cost savings. You'll not only save money upfront but every month you'll save on your existing communication bill. Most customers end up saving between 10 to 25% every single month. These savings only increase when you factor in international calling, multiple office locations, or running a heavy call center.
100% call reliability. You'll never drop an important call again. Our unique network setup allows for 100% reliability.
Work From Anywhere. Our phone system supports seamless call routing, no matter where your employees happen to be. Your team can be spread across the country or the world, using a smartphone app, a laptop or a business desktop VOIP phone.
S. based customer support. Our technical support team is US-based and trained to meet your toughest support demands, no matter what time of day an issue arises.
You get access to standard VoIP phone system features as well:
Caller ID with full name identification
Autoattendents & Ring Groups
Voicemail to Email
Custom hold messaging or music
Call transferring (even across multiple locations)
Find Me/Follow Me functionality
Phone numbers in multiple cities
E991
DID's
And more
Is a Cloud-Only VoIP System Right For You?
We have a variety of VoIP solutions we can offer your Springfield business. Depending on your existing infrastructure, your business might be perfect for a cloud-only VoIP system.
We've joined forces with Cytacom to create a cloud-based VoIP solution that unifies all of your business communication systems.
A cloud-only VoIP system includes features like:
Voice, text, and fax that syncs across any device, no matter where your employees are located
A text-based business messaging feature to stay in touch with clients and customers
Real-time tracking and data to refine your sales and customer support processes
Access to an app marketplace to add new functionality to your communication system
Set Up a Call With Our Springfield VoIP Experts Today
Still not sure if a new business VoIP system is right for your Springfield business? Our team is here to help.
Fill out the form on the right or call our office at (217) 528-0500 to get started today!
Here are a few things that we'll cover on the call:
If a VoIP phone system will work with your existing infrastructure setup
What type of VoIP system will fit your business needs the best, we create a custom VoIP setup that'll support your business
How much money you'll save when switching to an upgraded VoIP phone system, including the price of installation and setup
How you can not only improve your customer experience but improve your sales process as well
If your current networks can support a robust VoIP system (some old networks can't support new technology)
This won't be a sales call either. Instead, our goal is to see if a new VoIP system will enhance your business operations and cut costs across the board. There's completely no pressure.
We'll also throw in a bonus that a lot of other VoIP Springfield providers can't match.
You get to keep your existing phone numbers!
We're one of the few Springfield, IL VoIP providers that can offer this service. We've also streamlined our entire setup process to remove the hassle from upgrading your phone system.
To make your decision easy we offer a turn-key VoIP package. You get a system that works right out of the box, and is custom built to support your unique business needs and processes.
Our team of Springfield VoIP experts are waiting to help you achieve your business goals. Fill out the form on the right or call our office at (217) 528-0500 and upgrade your VoIP phone system today.