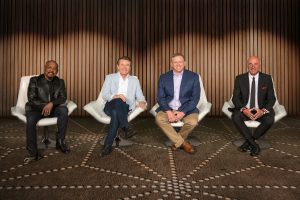 What problem does your business solve? And for who? Do you communicate that clearly in your marketing? Is your business good at solving that problem? These are the questions that stars of the hit TV show Shark Tank asked participants during a panel discussion I recently attended at an industry event.
You'd be surprised how many people had to think for a long time to clearly answer those questions. On the show Shark Tank, entrepreneurs present their business ideas to a rotating group of potential investors including Daymond John, Robert Herjavec, and Kevin O'Leary, all who spoke on this panel. If participants of the show don't know the problem their business solves, they're not going get investments or earn the Sharks' trust.
Why listen to these TV stars? They're wildly successful in business! Robert Herjavec is a tech genius, and immigrant turned multi-millionaire who kicked off the discussion by sharing his personal story of overcoming adversity. He encouraged entrepreneurs to embrace the latest technology and stay ahead of the game. Daymond John, the streetwise fashion guru who turned his love for hats into a multimillion-dollar brand, urged business owners to identify and fill gaps in the market. And Kevin O'Leary, the software entrepreneur turned savvy investor, emphasized the importance of having a clear understanding of your value proposition and standing out from the competition.
The overall theme of the panel discussion was "Know the problem you solve." The panelists emphasized the importance of positioning your product or service as something that uniquely solves a problem or improves your customers' lives. Here are five key takeaways from their discussion:
Identify the problem you're solving: Before you can position your product or service as a solution, you need to identify the problem that you're solving. This requires a deep understanding of your target customer and their pain points. You need to be able to articulate how your product or service addresses their needs and solves their problems in a unique and meaningful way.
Focus on the benefits: When positioning your product or service, it's important to focus on the benefits, not just the features. Customers don't buy products or services based on their features alone; they buy based on how those features will improve their lives. Make sure you're communicating the benefits of your product or service clearly and concisely.
Be specific: Don't try to be all things to all people. Instead, focus on a specific problem or set of problems that you can solve better than anyone else. This will help you differentiate yourself in the market and build a loyal customer base.
Tell a story: People remember stories much better than they remember facts and figures. Use storytelling to illustrate how your product or service solves a problem and improves your customers' lives. This will help you connect with your customers on an emotional level and make your product or service more memorable.
Test and iterate: Once you've identified the problem you're solving and positioned your product or service as a solution, it's important to test and iterate. Get feedback from your customers and adjust as necessary. This will help you continue to improve your product or service and stay ahead of the competition.
Your business can thrive or fail based on knowing and applying these concepts. This can also change over time as your business grows and problems and people change.
As an IT company founded in 1984, my own business has changed many times over the years! We opened our doors when computers were just starting to be used in the workplace. Then we helped individuals build custom computers specifically geared toward their needs. In the 1990s we transitioned to setting up networks of computers and began using internet capabilities in the mainstream. Now, we're helping businesses keep their technology running hassle-free while also protecting them from cyber-attacks.
People Don't Know What They Don't Know
The world is filled with people selling things to solve problems that you never knew existed. Some are scam artists while others are trying to genuinely build a business offering an essential service for the world. It's hard to not be skeptical these days where there's a new danger and something else to worry about (and pay for) in the news every day.
As an IT company, we have the same conversation with business owners every day, despite repeated news headlines about the latest business or organization being hacked. Many think that they are too small to be at risk of a cyberattack. Others think that their current IT guy "has them covered" because he seems to know a lot about technology.
Most business owners think cybersecurity is a yearly conversation they have with their insurance company to fill out a form to qualify for insurance. In reality, cybersecurity is an ongoing risk that requires ongoing, proactive management that's constantly evolving along with technology and threats.
Being A Trusted Expert in Your Field
The Sharks are all trusted business experts, which is why millions watch their show and thousands apply to have a chance to pitch their business for a chance at getting an investor. People are looking for someone knowledgeable and trustworthy to help solve their problems, not an amateur who seems risky.
As a wrap-up for the panel discussion, the Sharks reiterated the importance of deeply understanding the problem you solve so people know you are the person and the company to help them. Become the person and company that they trust to solve their problems with excellent service and by adding value. Then your business will thrive.