Computerease adds an award by Small Business Monthly as Best IT Firms in St. Louis to the 2021 lineup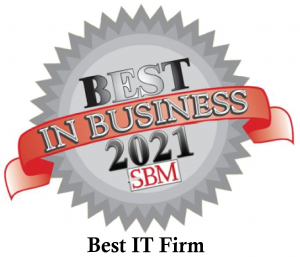 In December 2021, one of St. Louis's oldest IT companies, Computerease, added yet another recognition to its lineup of awards for 2021. The locally renowned publication, Small Business Monthly, released its list of Best IT Firms for 2021, including Computerease among its ranks.
Earlier in 2021, Computerease was named as Best Cybersecurity Firm by the same publication, Small Business Monthly, and CRN's MSP 500 of industry leaders in the IT support industry. Ryan Haislar, President of Computerease commented, "We are truly honored to be among our fellow top IT support companies in the St. Louis area. We commit to deliver exceptional IT support and cybersecurity for our clients. Receiving these awards reflects our dedication and commitment to putting our clients first."
Small and medium business owners throughout the St. Louis area trust St. Louis Small Business Monthly as a leading source for business-related resources.  There's a few newcomers to the list of 2021 list of Best IT Firms for St. Louis featuring longstanding IT companies like Computerease. However, Computerease is unique in its longevity.
Ryan Haislar said, "My father started Computerease in 1984 back when businesses were just starting to use technology in their day-to-day operations. He saw the future of technology as integral for running a successful business. I'm proud to keep his vision alive 37 years later." A small business surviving for 37 years is an accomplishment, let alone in the IT industry where technology and IT firms have a flashpoint of a lifespan.
Computerease is an IT support company that invests in the long-term success of its small business clients. It's one thing to make computers and servers work well; it's quite another to act as a trusted IT advisor that listens to a business's priorities and long-term goals. Technology can make or break a business, so choosing the right IT firm is essential. Thankfully, business-focused organizations like the St. Louis Small Business Monthly make it easy for local business owners to identify which IT firms they can trust, like Computerease.
About Computerease
Small and medium businesses throughout the Greater St. Louis area trust Computerease with all their IT support, cybersecurity, and VoIP phone needs. As a 2nd generation family-owned and operated business founded in 1984, Computerease has grown and adapted in a constantly evolving industry. The company is a regional leader in helping small and medium businesses streamline technology while fueling business growth.