Advance Your Business With A New VoIP Business Phone System From A Qualified St. Louis VoIP Provider
Changing phone systems is a huge undertaking! That is why many St. Louis area businesses still have traditional phone systems with high monthly bills.  The logistics and potential downtime involved with switching out a phone system for a business with 20 people can be is very complicated. Even switching out a traditional business phone system for a small business of only 6 people can be overwhelming for a St. Louis business owner looking to decrease their monthly costs.
Why do St. Louis area businesses still have traditional phone systems?
Also, there's a certain amount of reliability and safety with the consistent performance of a wired telephone system. That reliability in service comes with the disadvantage of outdated technology and limited features. These limitations could mean that there are expensive monthly add-ons (like voicemail), a limited number of incoming call lines, and even limited caller ID.
The outstanding monthly costs of the traditional business phone service, plus the maintenance of the phone systems, mean that most businesses are searching for a St. Louis VoIP provider to help them transition to a new business phone system.
Advanced Business VoIP Phone System Features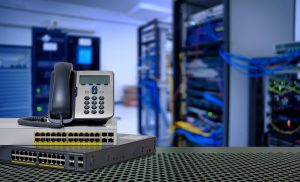 The latest features available on VoIP business phone systems are flexible enough to help your business adapt to every business working environment, especially remote work! All these features are available at a reduced monthly cost compared to your traditional business phone system.
Accurate caller ID with full name identification
Call transfer with custom hold messaging/music
Standard voicemail and voicemail to email
Unlimited toll-free numbers
Find me/Follow me feature
DID's
E911
Voice, text, and fax, across any device and any location
Business messaging feature that allows you to text customers and clients
Access to an integrated app marketplace for on-demand new features
These advanced features are meant to scale up easily with your business and work wherever your team is working.  Don't let the antiquated components of your traditional business phone system hold you back!
How do you choose the best St. Louis VoIP provider to help make the transition?
So, you're ready to move your St. Louis business to a VoIP business phone system. Which phone system do you choose? More importantly, which VoIP phone provider do you choose?
Option #1: You can buy a phone system directly from a VoIP phone company, but then you're limited to only their phone system. Will they be able to handle hooking your new phone system up to your existing network?
Option #2: Or, you can choose a St. Louis VoIP provider with multiple VoIP phone systems to choose from, and they can recommend the best phones for your business.
Best of all, a VoIP phone provider like Computerease, which is an IT company, can make your VoIP phone system work with your existing network efficiently.
No problems, no hassle. A single vendor to handle all your devices connected to the internet. Get the advanced functionality, decreased monthly expenses, and one person to call if something goes wrong (which it won't with your awesome new VoIP phone system).
Ready to get rid of your old business phone system? Give Computerease a call at (314) 432-1661 (MO) or (618) 346-8324 (IL), and we will review all your VoIP phone system options to help save you money and gaining advanced calling features.