Let Us Take You Out To The Ballgame!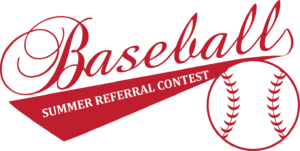 We are in expansion mode and are looking for some more great clients!
We are giving away 2 FREE Cardinals Tickets to the UMB Champion's Club (see details below).
Everyone who submits a referral before August 31st will be entered into a drawing to win these awesome tickets! Each referral counts as one entry so the more people you refer the more likely you are to win.
Ideally, I'm looking for business owners, managers and administrators that have 10 or more employees and that are located in the greater St. Louis metropolitan area.
Since they are being referred, we'll extend a FREE 27 Point Problem Prevention Network Check or 2 Free hours of technical support to the people you refer as a gift.
Important: The people you refer they are NOT required to do anything and they are NOT required to buy anything to count as valid entries for the Cardinals tickets!
And these are not just regular baseball tickets….
7 FREE PERKS OF UMB CHAMPION CLUB CARDINALS TICKETS
Complimentary buffet that includes salads, nacho bar, carving stations, paninis, hotdogs and brats, additional entrees and desserts
Exclusive access to indoor Club lounge with 30 flat screen TVs
Three complimentary full service bar areas including beer, wine, mixed drinks and soda
Private entrances and restrooms
Reserved outdoor seating on suite level
Buffet service available 1.5 hours before and after scheduled game time
Bar service begins when gates open and alcoholic drinks available until end of 9th inning
Here's what you need to do to win these tickets:
Fill out the referral form on the right side of this page or call us at (314) 432-1661 (MO) or (618) 346-8324 (IL) with the people you would like to refer. You will have ONE ENTRY per referral for the drawing for the tickets.
Send the people you refer a quick email to let them know that we will be calling.
No-Hassle and No-Pressure Guarantee: We will be 100% respectful of your referral's time and wishes. We will personally make the calls and will not bother them in any way, or do anything that might damage our relationship with you or your relationship with them.  Of course our free offers to them come with NO STRINGS ATTACHED, no hassles and no sales pressures.