Computerease Named Among Region's Top Cybersecurity Firm By St. Louis Small Business Monthly
St. Louis, MO – June 9, 2021
Computerease, a 2nd generation family-owned and operated IT support company founded in 1984 was recently named top Cybersecurity Firms in St. Louis by the St. Louis Small Business Monthly.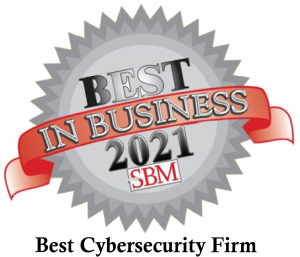 St. Louis Small Business Monthly recently released its annual list of top cybersecurity firms for 2021, including a longstanding IT company in the region, Computerease. Computerease is a family-owned and operated IT company that serves St. Louis, Chicago, and all of Illinois with comprehensive IT support, cybersecurity and VoIP phone services.
Computerease has shown its longevity and legacy to serve local business owners and is the oldest company on the list. Ryan Haislar, CEO of Computerease, said, "We are very honored to be once again recognized for this award. A key component of our IT Support plans is cybersecurity services. We take cybersecurity very seriously for both our clients and our own business. It's very devastating to hear about some businesses that face immense costs and downtime after falling victim to a cyberattack. Most often, these cyberattacks could've been prevented with reasonable and affordable measures put into place."
All small and medium business owners need to consult a cybersecurity professional and seriously evaluate their IT support and protections they have to prevent falling victim to a cyberattack. St. Louis Small Business Monthly has recognized the importance of cybersecurity's role in a successful business by adding this new category to their annual awards for the region.
St. Louis Small Business Monthly is a source of strategy, management, and innovation for St. Louis area entrepreneurs and business owners. Their annual lists of leading firms throughout the region are valuable gauges of business leaders in each area. Area business leaders rely on SBM to keep them informed and in touch with the latest best practices, business advice and inspirational trends that are helping businesses succeed.
Ryan Haislar shared an important reminder for fellow small and medium business owners, "It's essential that you take a proactive, multi-layered approach to cybersecurity for your business. You can't fall into a false sense of security thinking that you're too small and it won't happen to you. 95% of all cyberattacks target small and medium businesses. You can't afford to ignore the many cyber threats facing your business. We're here to help, just a phone call away."
About Computerease
Small and medium businesses throughout the Greater St. Louis area trust Computerease with all of their outsourced Managed IT Services, IT support, Cybersecurity, and VoIP phone system needs. As a 2nd generation family-owned and operated business founded in 1984, Computerease has grown and adapted in a constantly evolving industry. The company is a regional leader in helping small and medium businesses harness the power of technology to fuel business growth.