Who are the biggest competitors for your business? You most likely have at least three names that popped into your head. Can you and your team clearly describe what makes your business different from your competitors? Or, do the people within your business generically describe what your business does, leaving little to no distinction when compared to your competitors?
I recently returned from a multi-day business conference at High Point University where Dr. Nido Quebein taught us his proven methods for how to make your business stand out from your competitors.
Dr. Qubein is a world-renowned educator, author and professional speaker. He serves on the boards of several national organizations including BB&T (a Fortune 500 bank with $235 billion in assets), the La-Z-Boy Corporation, and Great Harvest Bread Company (with over 200 locations). He has received national awards for his professional speaking and has authored two dozen multi-lingual books and audio programs.
This hugely accomplished man had very humble beginnings. As a teenager and Lebanese immigrant, Dr. Quebein came to the US with only $50.00 in his pocket and very little knowledge of English. After building six businesses, starting a local bank, authoring 18 books, and becoming a well-known professional speaker, Dr. Quebein left the world of business in 2005 and became President of High Point University.
Under Dr. Quebein's guidance, High Point University transformed from a sleepy college of 1,400 students that had trouble paying for capital improvements into a thriving campus of over 5,200 students from 55 countries and 50 states. High Point University is now ranked by US News and World Report at No. 3 among Regional Colleges in the South and offers 44 undergraduate majors, 40 undergraduate minors and 10 graduate degree programs.
In North Carolina alone there are a total of 79 colleges and universities and 59 of those are private institutions, just like High Point University. How did Dr. Quebein differentiate High Point University from all of it's competitors?
Every college (and business) has a baseline that is simply expected of them. Each and every college will be able to give a student a degree, a business degree or a biology degree. Same for business, every doctor's office is expected to be able to help patients receive medical care and each IT company is expected to make your computers work.
The real question is - How do you make your business stand out from your competitors? What are the unique and differentiating factors that make doing business with you the best choice?
The first step is to objectively assess your business before being able to differentiate yourself from your competitors. Here are the three main questions that Dr. Quebein shared during the business conference that he uses when evaluating any of his businesses, including High Point University:
What are the 3 biggest irritants experienced by my clients?
What are we doing to remove these irritants from my client's experiences?
What are 3 ways that my clients have an exceptional experience by doing business with me?
Answering these questions consistently and taking action to improve your overall client experience will give you specific ways that you will stand out from your competitors. Over time, your business will emerge as a leader in your industry.
Every decision made for the university has a single purpose as it's deciding factor, which is "How does this serve my clients?" The students and the families of the students are the first priority of High Point University, which is evident by the amenities and services available on campus.
My first impressions of the campus were that it's just like Disney – it was beautiful and clean! There were even statues of historical figures on benches around the campus including George Washington, Albert Einstein, Ludwig van Beethoven, Helen Keller and Gandhi that are meant to inspire the students and to enhance the engaging academic environment.
I left the conference inspired by Dr. Nido Qubein's words and the overall experience of High Point University. As the owner of an IT support company, I'm motivated to take a closer look at my own clients' experience to see where we can improve. My business has over competitors just in the St. Louis metro area. What makes our clients choose Computerease over other IT companies? I could tell you what they say, or you can read their own words here.
As a fellow business executive, I'm sure you're well aware of your competitors. And, I know that you're committed to the highest level of service to your clients. Every single thing that you can do to improve your clients' experiences will absolutely serve as added value. So, how are you going to make your business stand out from the crowd?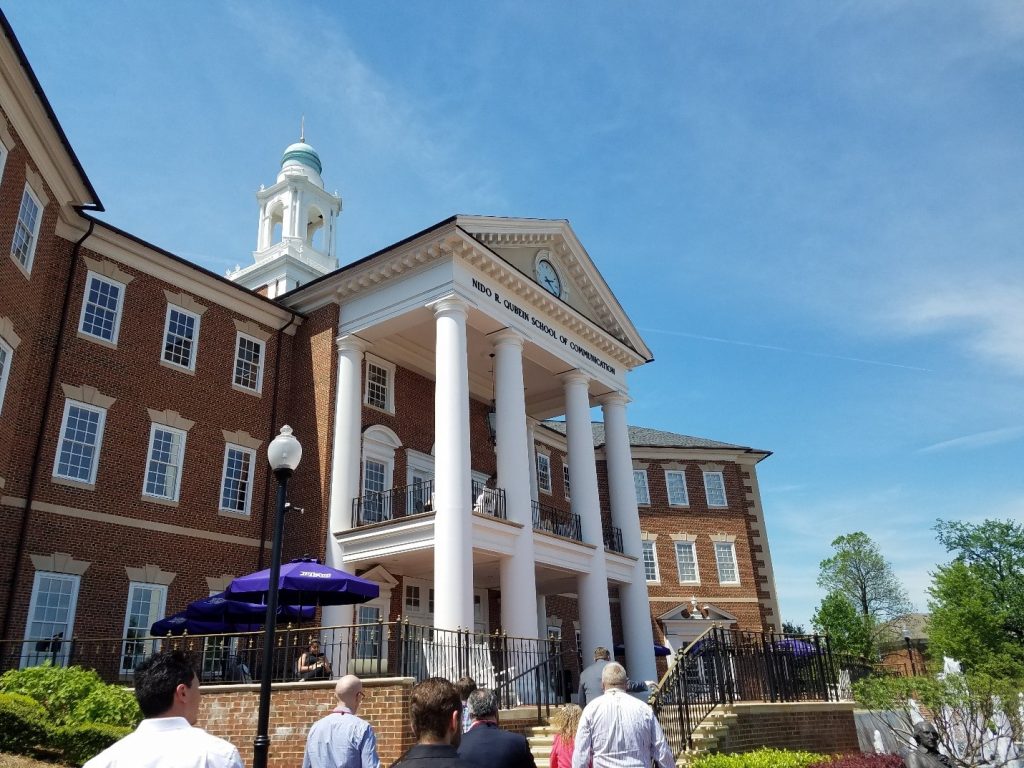 Dr. Nido R. Qubein became the seventh president of High Point University in January 2005.  Driven by faithful courage, he continues to lead HPU through an extraordinary transformation that includes:
Significant and measurable academic growth
210% increase in traditional undergraduate enrollment
383% increase in campus acreage
President Qubein has partnered with faculty and staff to forge new opportunities for HPU. Focusing on experiential education and holistic, values-based learning, graduates are prepared to live a life of both success and significance. Shown on the picture in the left is the building of the Dr. Nido Quebein School Of Communication which prepares students to become industry and community leaders with exceptional communication skills.